Two new smart technologies to support enterprises: Direct Routing and Remote Assist
10 June 2020
Press releases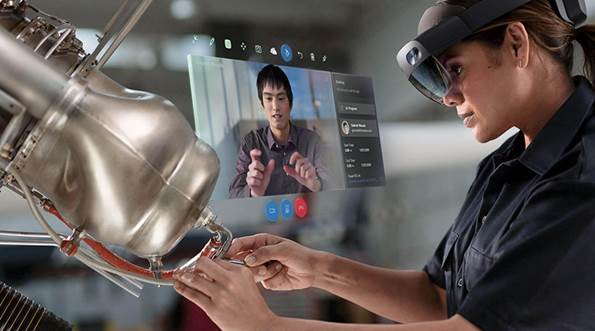 Retelit launches two new smart technologies to support enterprises in the next development phase of their business: the solutions extend the capacities of the well-known Microsoft Teams collaboration platform and assist the management of increasingly agile, flexible and smart ways of working. The company is one of the first in Italy to launch Direct Routing for Microsoft Teams in "as a service" mode. With a view to closer collaboration and the exchange of information from anywhere, cutting maintenance costs and boosting fieldwork efficiency and speed, Retelit supports the market in adopting the Dynamics 365 Remote Assist solution.
Remote working is a key factor for business continuity in emergency situations, shaping a new way of work which in the future will become increasingly central: already by 2020 it is estimated that 72% of people work remotely, that about 80% of working time will be dedicated to team collaboration and that gradually an increasing proportion of services will be offered in an exclusively digital mode. A situation which drives us to focus on even closer integration between new services, collaboration platforms and company operating systems (ERP, CRM etc...) to ensure complete access to applications, data and ultimately "the business itself" - also and particularly remotely, with an eye on cost containment.
Retelit, strengthened by the recent integration with the PA Group which has extended its range and infrastructural coverage, supports this decisive cultural shift with a dedicated package centring on Microsoft Teams, the well-known collaboration tool for Microsoft work teams, launching two exclusive services that can be integrated into the Microsoft 365 team working hub: Direct Routing, which allows customers to make and receive direct calls to their company number directly on Teams, and the Dynamics 365 Remote Assist service for the remote management and resolution of technical operational problems, which uses a mixed model of augmented reality and remote collaboration.
Two "as a service" solutions which extend the capacity of the Teams platform - which has recently hit 75 million active daily users globally and which reports an increase in meetings and calls of 775% over the initial weeks of remote working - supporting the introduction of innovative styles of remote working to businesses targeting Industry 4.0.
"Never before has technology taken on a more decisive role in supporting institutions, schools, businesses and people: work and socialising have been sustained thanks to digital tools that have become increasingly central and indispensable", stated Federico Protto, CEO of the Retelit Group. "We have witnessed an almost forced acceleration of digitalization towards Industry 4.0. At Retelit, also thanks to the merger with PA Group, which has extended our range and infrastructural coverage, we have supported our customers in the new approach to agile and flexible work by proposing integrated solutions which can easily adapt to the new "smart" standards. Thanks to the consolidated skills of PA Evolution and PA Expertise, two of the companies in the Retelit Group that have been working with Microsoft for many years, in particular, we have successfully introduced Direct Routing on Teams and Remote Assist, technologies that support businesses by solving practical collaboration problems while allowing a significant reduction in costs".
In detail, through the Direct Routing service for Microsoft Teams, medium and large enterprises can make and receive calls on Teams, routing calls from the National Telephone Network to the Microsoft Phone System. This enables the team working hub to become a telephone hub, providing companies with a reduction in costs generated by the elimination of landlines and PBXs. The service can also be provided by maintaining your telephone operator and PBX. In order to enable the service, the customer must have or purchase E1, E3 and E5 Office 365 licenses and Add-on Phone Systems for E1 and E3 licenses or Business Basic, Standard or Premium licenses with related Add-on Phone Systems.
The Dynamics 365 Remote Assist service allows you to manage technical and maintenance issues in real time with a mix of virtual and immersive reality, using a variety of devices to solve problems together and faster. In practice, when faced with a problem, the technician - no longer "in the field" - is contacted via a Teams call that can be made using any device. Through a mobile application (for IOS and Android devices) or through the use of HoloLens, the technician can see directly what is the problem at the company requesting assistance, receive context indications from remote collaborators and exchange documentation also in a very intuitive and immediate way. Instructions can be communicated through a call, on-site operators and remote workers can use drawings and arrows to refer to specific parts of a machine or object. The technicians and inspectors can in turn enter information and remotely and in real time activate the most appropriate resources to solve the current problem. The output is the report on the call, documented by the photos and documentation exchanged, and is stored in Dynamics 365 CRM (Field Service), building the company's wealth of information.
"In order to continue to ensure maximal business operability and exploit all the advantages of digital technology, our partners have developed innovative solutions which can concretely support the business of Italian organisations both in the emergency and recovery phases" stated Fabio Santini, Microsoft Italy Partner Division Manager. "In particular, I am very proud of the proposal developed by Retelit that addresses a specific need in key sectors for our economic recovery, such as the mechanical and manufacturing sectors, enabling integrated customer management and remote assistance with innovative and cutting-edge technology such as HoloLens, among others".